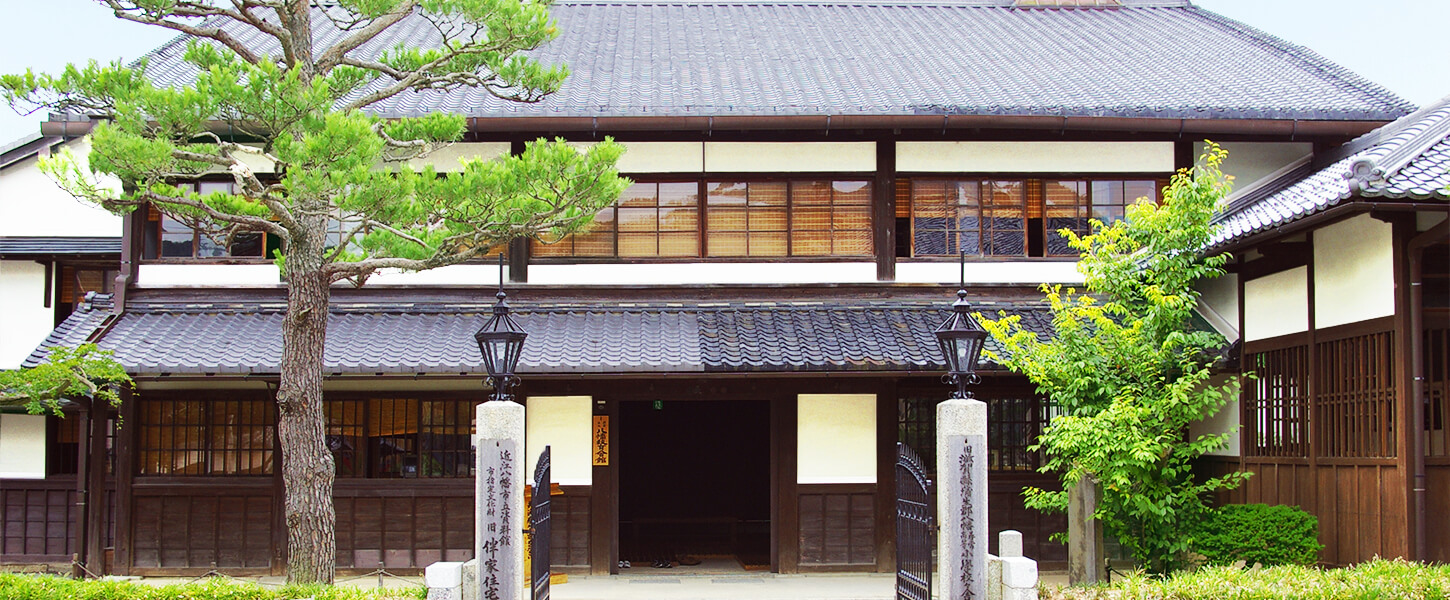 The Former Ban Residence is a merchant house built by the successful merchant family of Ban Shoemon in the early Edo period (early 17th century).
The current building was built by its seventh-generation successor, Yoshitada, in the late Edo period between 1827 and 1840, taking more than 10 years to complete. Later, however, in the Meiji Period (late 19th century), ownership was handed over to the town, at which point it first became an elementary school and then a girls' school. After the war, it functioned as a library for a local company called Omi Brotherhood, and later became a municipal library of Omihachiman City. The building has since been restored and now serves as a historical museum called the Former Ban Residence.
About Ban Shoemon's Family
As the original founder of the family business, Ban Shoemon was among the area's merchants, known as a Hachiman Merchants, dealing mainly in tatami mats, mosquito netting, folding fans, and linen fabrics. After opening his stores in Osaka and Kyoto, he later founded a larger scale store in Nihonbashi, Edo (the old name for Tokyo). He also began operating as a lending business for feudal lords, and a money exchange.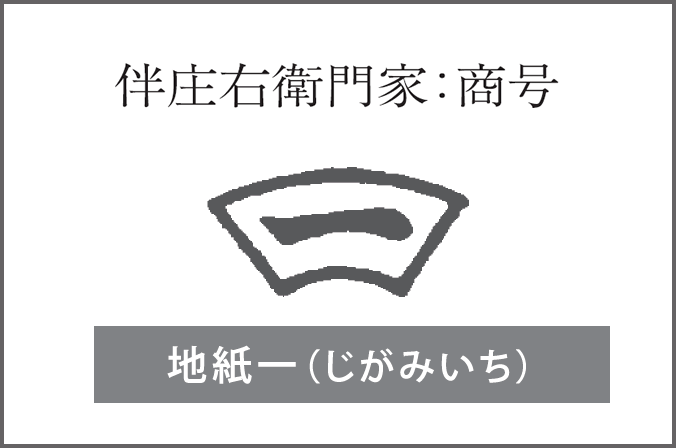 The family was known by their business name, Ogiya, with the trade mark of "Jigamiichi" (jigami, means fan-making paper, and ichi means number one).
The fifth-generation successor, Sukeyoshi, did business following principles of simplicity, frugality, and diligence, but he also had a deep knowledge of arts and culture. He retired at a young age and assumed the name, Kokei, to pursue a career as a poet and scholar of Japanese classic literature. He later became a notable figure within these fields, representing the mid Edo period. His biography, Kinsei Kijinden (lit. "Stories of Recent Eccentric People"), became a bestseller of that time.
The currently standing building was built by the seventh-generation successor, Yoshitada, in the late Edo period, taking over 10 years to build. According to historical records, he aimed at constructing a large-scale, three-story structure capable of withstanding earthquakes. Such a scale of building was very rare in those days.
The family enjoyed their prosperity through the Edo period, but by the end of the era, the family business was facing a swift decline, leaving only their branch family, Ban Denbei, who has continued the Tokyo business since then.
---
Building History
In the Meiji period (1868-1912), the building had been used by the local community first as a school and then a library. Since April 2004, it has been open to the public following a restoration back to its former Meiji-period school condition.
The building became the property of the Hachiman Kyoiku Kaikan Incorporated Foundation in 1939, established by the successful Hachiman Merchant, Nishikawa Shoroku (currently Mercros Co., Ltd.), and lent free of charge to Omihachiman City, to be utilized for the culture and education of the local community. However in 2012, the designated management system of the building changed, and thus since then, the Hachiman Kyoiku Kaikan Public Interest Incorporated Foundation has been managing and operating the facilities.
---
Exhibitions
Festival Float from Sagicho Festival
Display of a dashi (festival float) used in the Sagicho Festival held annually in March. All of the float decorations are made using items of food.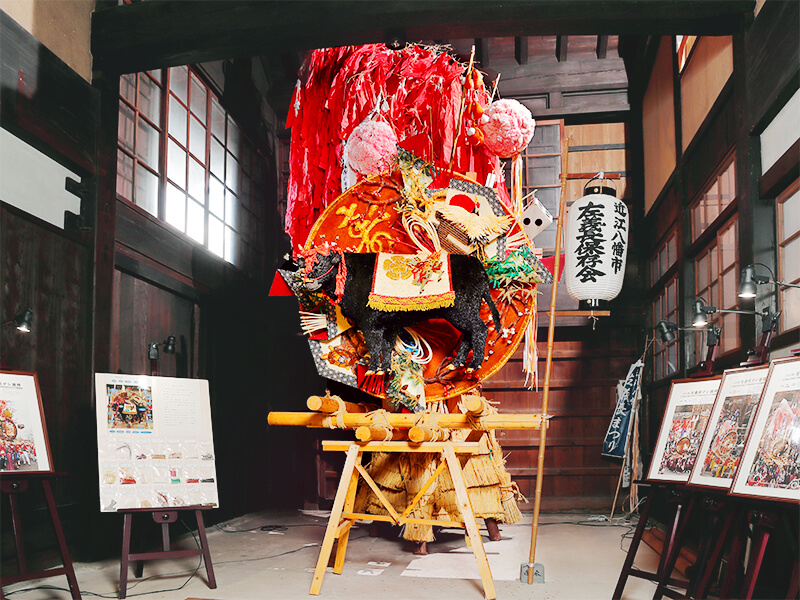 Small Traditional Crafts
Display of a dashi (festival float) used in the Sagicho Festival hSmall items made from pieces of kimono fabric, a traditional craft of Omihachiman City.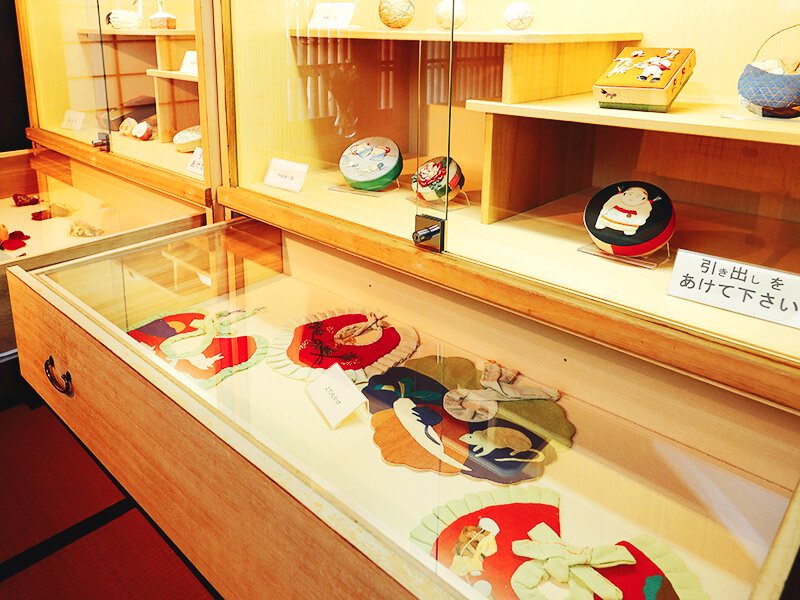 Joseon Tongsinsa Mission and Ceramic Figure / Luxurious lunch set for the Joseon Tongsinsa
It is said that the Joseon Tongsinsa stopped and ate meals in Omihachiman on their way to Edo through the "Chosenjin Kaido" (Korean Road).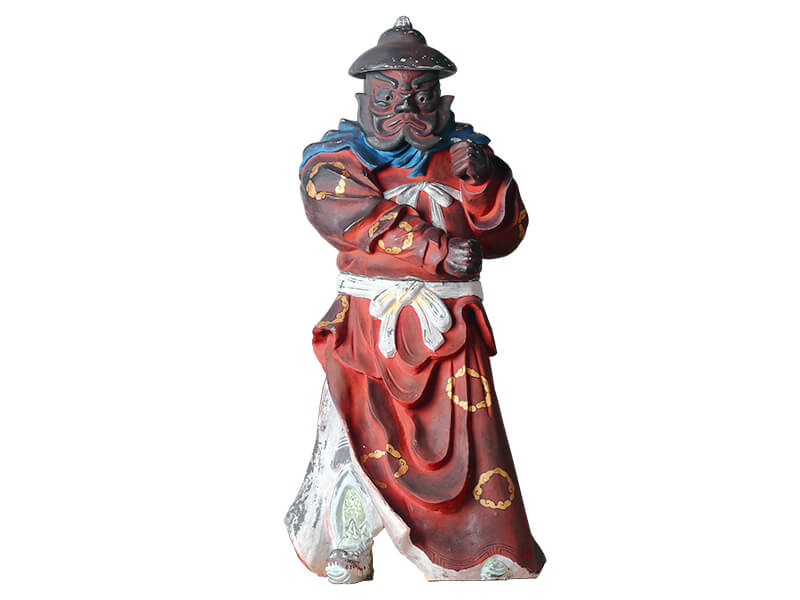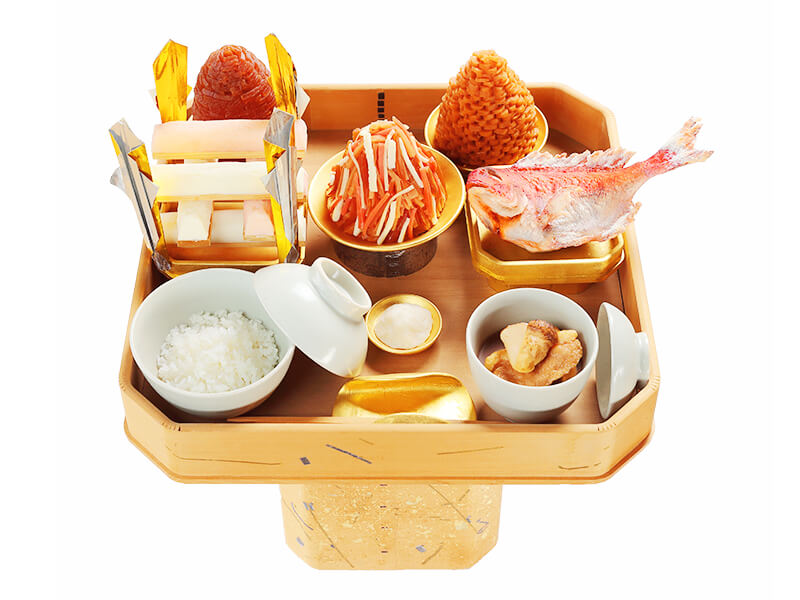 ---
About the Building
The Former Ban Residence was built between 1827 and 1840 at the corner of Kyokaido Street and Shinmachi-dori Street, a prime location of the area during the Edo period. The government at the time enacted strict regulations for machiya townhouse construction, prohibiting two-story buildings as well as limiting the length of beams to about 5.5 meters. It is believed that the power of Hachiman Merchants allowed them to build a three-story building with a dynamic structure despite such strict restrictions.
The highlights of the building include elements of luxury such as a space with a three-story high ceiling, a large 45-tatami-mat room, and an expansive earthen-floored hall. However, other unique features are equally impressive such as beams made from single pine logs up to 13.6-meters long, and the large 40-cm-wide central pillars that span all three floors.
The third floor, usually closed to public, overwhelms visitors with the magnificent exposed arching beam supporting an expansive ceiling. In addition, the space called "Jishin-no-ma" features columns positioned on large horizontal beams and fixed with small supporting cross beams. The space filled with numerous beams and columns is certainly an interesting sight. It's definitely worth seeing if you ever have the chance.
Floor Plan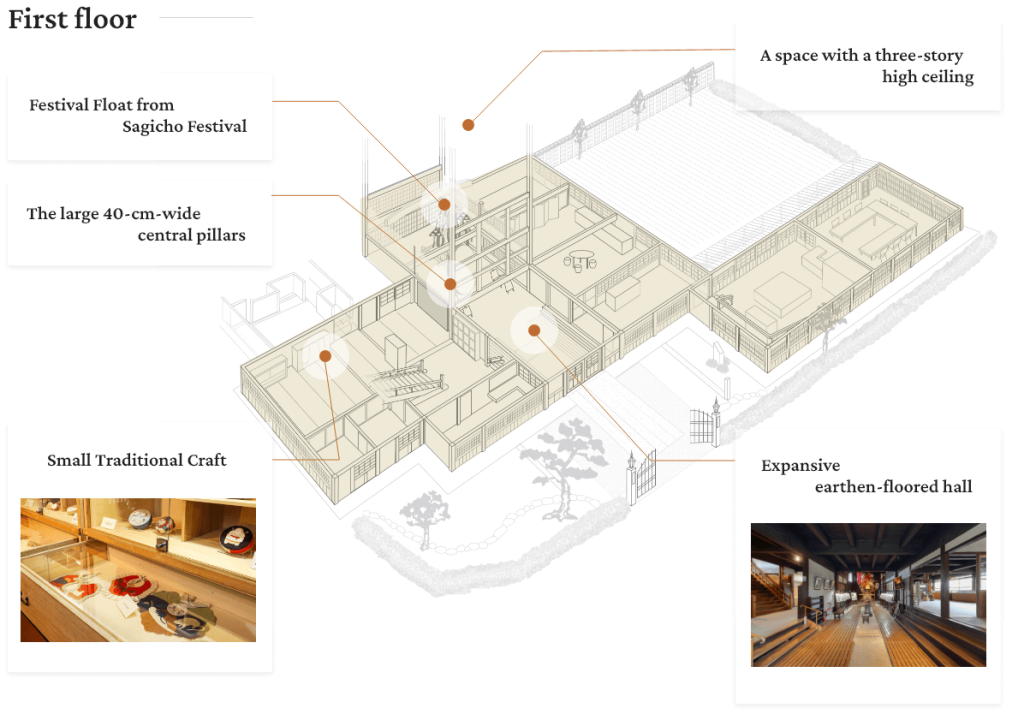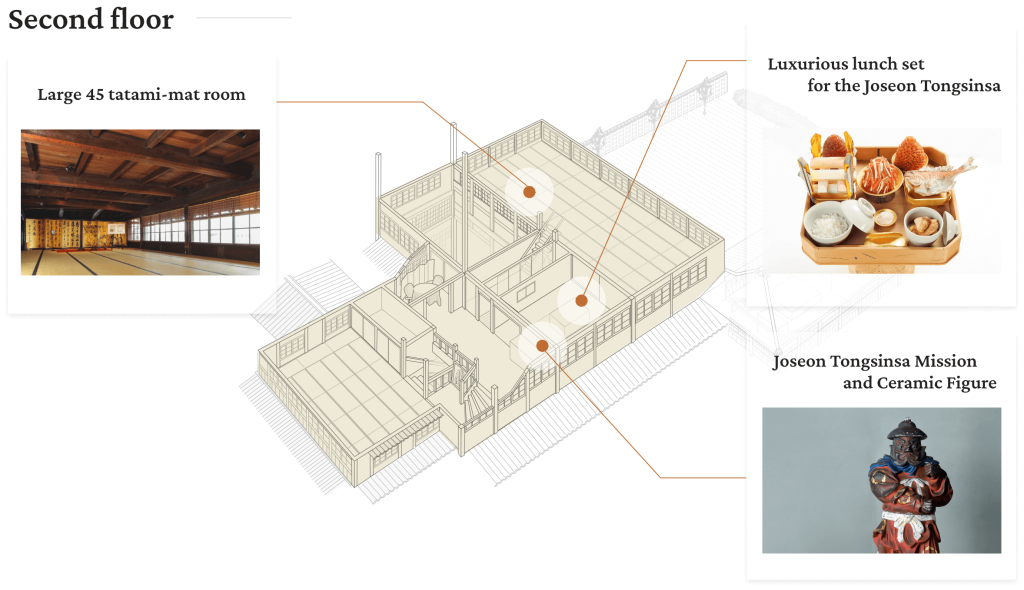 Photo Gallery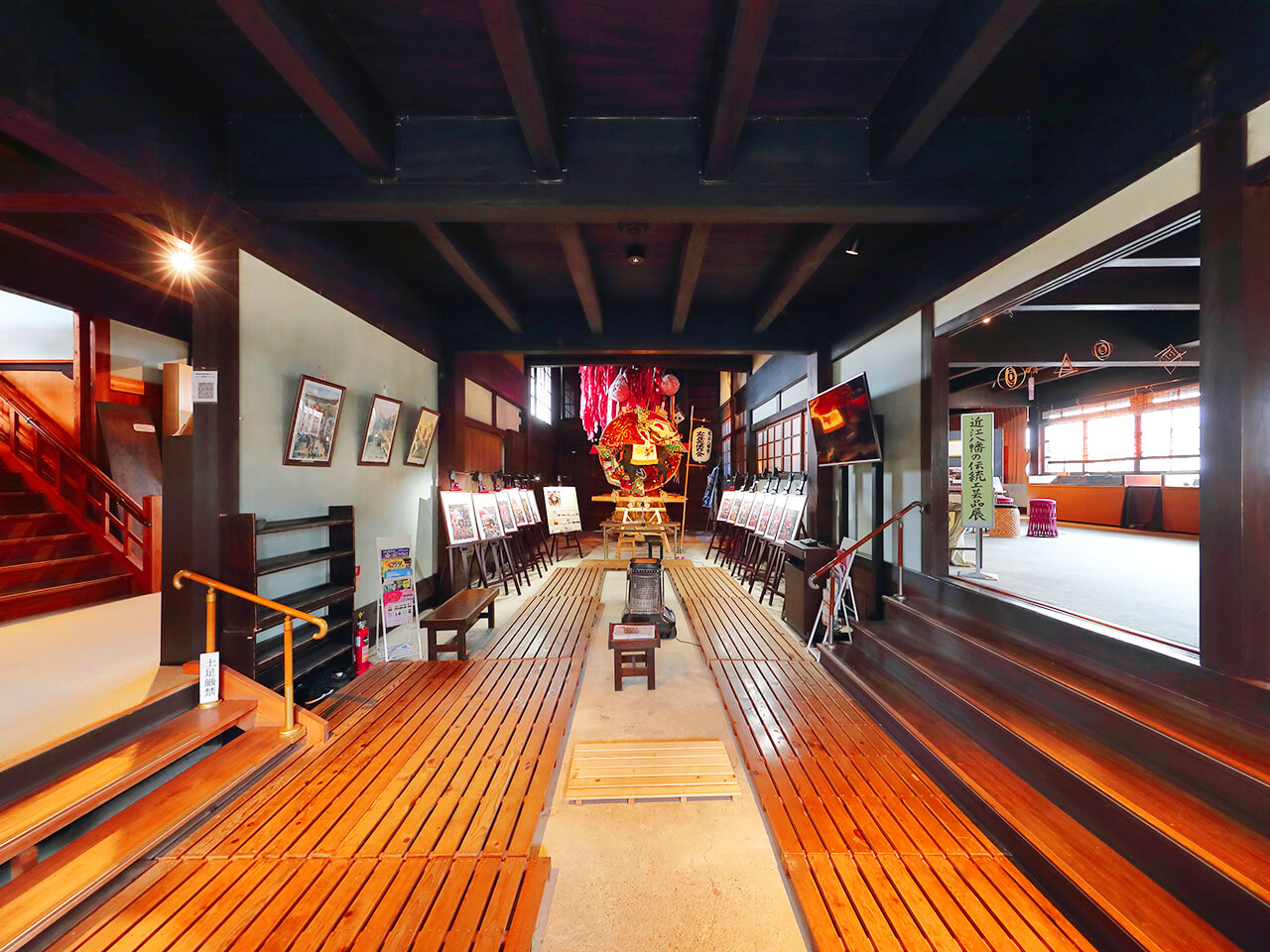 ---
Visiting Information / Access
Former Ban Residence, Omihachiman City Designated Cultural Property
| | |
| --- | --- |
| Address | 3-15 Shinmachi Omihachiman, Shiga, JAPAN 523-0871 |
| Phone / Fax | 0748-32-1877 |
Opening Hours
Hours
9 am to 5 pm (entry until 4:30 pm)
Closed
Mondays / day following a national holiday / year-end & New Year holidays
(No closings in March, April, May, October & November)
* exhibition rooms may close partially, even during open hours.
Admission
Former Ban Residence
Adult
Elementary & JHS Students
Individual
400 yen
250 yen
Group (over 10 people)
350 yen
200 yen
Discounts
To Visitors with a Disability Certificate (including caregiver) – 200 yen for both entry and special exhibitions.
Joint Admission of Former Ban-ke Residence and Omihachiman City Museum
| | Adult | Elementary & JHS Students |
| --- | --- | --- |
| Individual | 800 yen | 400 yen |
| Group (over 10 people) | 700 yen | 300 yen |
Access
Get off at JR Biwako Line Omi-Hachiman Station and take the bus bound for Chomeiji (長命寺).
Get off at Obatacho Shiryokan Mae (小幡町資料館前) bus stop and take a short walk.
Parking
Public parking is available at the Municipal Obata Kanko Parking Lot (市営小幡観光駐車場)
| | |
| --- | --- |
| Standard size (83 spaces) | 510 yen / day |
| Large vehicles (11 spaces) | 2090 yen / day |
Notice for Your Visit
The facility is smoke-free.
Bringing your own food and drinks is prohibited in the facility.
Please turn mobile phones off, or switch them to silent mode.
Please do not touch the exhibits.
Pets are not permitted in the facility.
Use the umbrella stand at the entrance unless carrying a compact type.